LIVE CME Botox Certification Training Schedule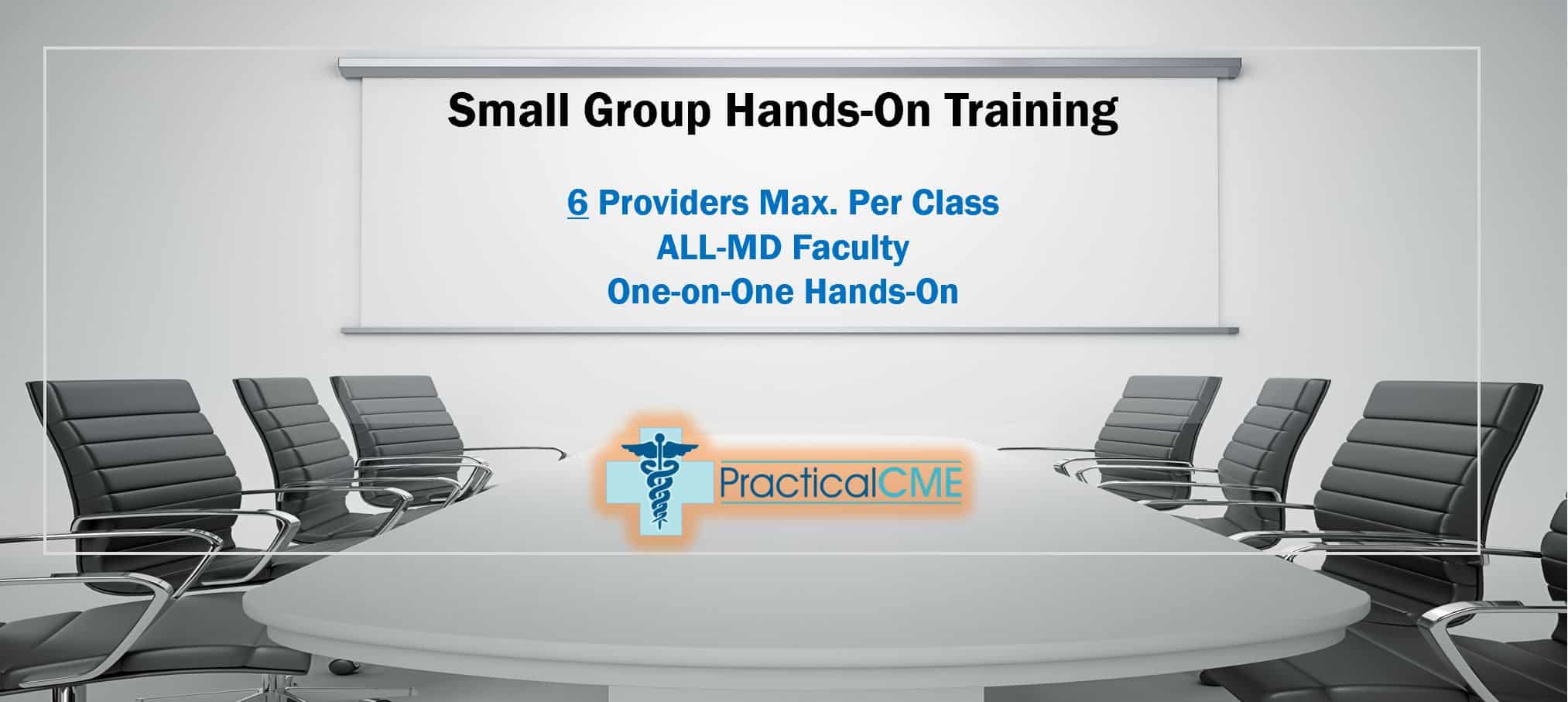 Our Live Hands-On Training Locations
Our Live Hands-On Training Courses
Our Next Live Hands-On Dates
CME Training for Doctors, Nurses, NP's and PA's
How Is PracticalCME Unique?
Medical Director Gregory Zengo, MD shows us how PracticalCME
Can change the Trajectory of your Career and your Life
Uses FAST TRACK(TM) Blended Online + Live Curriculum.
Learn why we have NO Sponsors and Teach only Small Groups
All Courses Available for Online Streaming Order Now and Begin Learning Tonight
Certification Aesthetic and Wellness CME Training Courses for
Doctors, Nurses, Nurse Practitioners, and Physician Assistants. Orlando CME, Los Angeles CME, San Francisco CME, Charlotte CME, Atlanta CME, Phoenix CME
CME-accredited Sclerotherapy Training, Botox, Dermal Fillers Training, Bio-Identical Hormones Training, Weight Loss and Ketosis Diet Training, Cosmetic Uses of Platelet-Rich Plasma PRP Training, Neurotransmitter Training, Leaky Gut Training, and Liposuction Training Courses
Live Certification Training Courses or Online Video Certification Training
SINCE 2008, PRACTICALCME HAS BEEN THE LEADER IN SMALL-GROUP LIVE TRAINING COURSES AND ONLINE VIDEO COURSES IN POPULAR AESTHETIC AND WELLNESS SERVICES OFFERING CME CREDIT AND CERTIFICATION TO HUNDREDS OF DOCTORS, NURSE PRACTITIONERS, PHYSICIAN ASSISTANTS, AND NURSES.
Sclerotherapy Certification Training teaches the latest techniques including the use of transillumination and foam Sclerotherapy of all cosmetic leg veins. All attendees of the live course will also receive the entire course on video first followed by a live review and Sclerotherapy hands-on training session. This course is approved for up to 7.75 CME Credit Hours.
The Botox Training Course also combines live hands-on training and video learning for the best results. Learn how to treat upper and lower face wrinkles with Botox, Dysport, and Xeomin safely and effectively. You can take both the Botox and Dermal Fillers Training Certification together, or just take the Botox Certification course alone. Juvederm, Restylane, Belotero. This course is approved for up to 9 CME Credit Hours.
Bioidentical Hormone Certification Training Course covers how to accurately test (using saliva and blood) the Male, Female, Adrenal, and Thyroid and treat the most common imbalances. This Bioidentical Hormone Training Course covers all aspects of hormone replacement including the use of Testosterone, Cytomenl, and the treatment of Adrenal Fatigue. The course even includes customizable office forms and advertising materials to help you implement this service into your practice. This course is approved for up to 8.25 CME Credit Hours.
Our Weight Loss Certification Training Course trains you in every possible approach to the obese patient. The Weight Loss Training Course includes Ketosis Diet Certification and has all of the forms and protocols necessary to start offering this diet in your office. This Course is approved for up to 7 CME credit hours.
Platelet-Rich Plasma PRP Certification Training including Vampire Facelift CME Training Certification allows you to treat the face with Platelet-Rich Plasma (PRP) safely and effectively with the only CME approved Certification course. The course is available on video, online simulcast, or live.
Liposuction Certification Training includes both an introductory video course that covers Training in Tumescent Liposuction Anesthesia and Liposuction Nursing Training. After the introductory course is completed, Doctors and Nurses can schedule one of our experienced instructors to proctor cases in their own office with our Live Hands-On Liposuction Training to complete the full instruction in Tumescent Liposuction.
Our newest wellness course is the perfect addition to any busy BHRT or Weight Loss practice. Neurotransmitter and GI Testing Certification Training Course gives the provider all of the tools necessary to help the most difficult patients treat their persistent symptoms and food addiction issues that may be caused by neurotransmitter imbalances and/or GI Leaky Gut stress. It is the only CME approved course of its kind on this subject matter.
Sign up for our PracticalCME Email Newsletter for Exclusive News and Discounts