Botox Courses and Dermal Fillers Hands-On Training Courses

Small-Group LIVE Hands-On Training
Maximum 6 Providers per Live Hands-On Training Course
20 units of real Botulinum Toxin and 1cc of Juvederm dermal filler provided for each attendee to practice on a patient of their choice.
One-on-one Hands-On Training in locations around the country.
FAST TRACK Online + Live Certification Training
Learn Online prior to the Live Training Class
Start watching online course material immediately
Downloadable consents and patient instruction forms
Live Course focuses on advanced learning and hands-on
Learn more about FAST TRACK blended training
Botox CME and Dermal Filler CME on the Same Date
Accredited Certification by AAFP and AMA Category 1
Credits accepted by AANP and AAPA
THIS ACTIVITY HAS BEEN REVIEWED AND IS ACCEPTABLE FOR UP TO 10 ELECTIVE CREDITS BY THE AMERICAN ACADEMY OF FAMILY PHYSICIANS (AAFP).
AAFP Elective credit is accepted by the American Medical Association as equivalent to AMA PRA Category 1 Credit™ toward the AMA Physician's Recognition Award.
Botox & Dermal Filler Course Outline
Introduction to Aging, and Wrinkles
Summary of facial changes with aging
Psychology and Social aspects of facial aging
Review of non-invasive facial procedures
Facial Skin anatomy
Facial Muscle anatomy and physiology
BTX-A
What is it Botulinum Toxin?
History of Use
FDA approved indications for use
Off-Label uses
Reconstitution and Dilution
Choosing the right syringe to use
Patient consent
Contraindications
Virtually Painless Injection Techniques and Dosage

Central Brow
Forehead
Crow's Feet
Lower Lid wrinkles
Brow Lift
Bunny Lines
Upper Lip Wrinkles
Lip Augmentation
Gummy Smile
DAO – Lip Corners
Chin Wrinkles
Masseters– Face Slimming

Touching Up
Complications
Follow-Up
HANDS-ON INJECTION opportunity for qualified attendees

Bring an eligible patient known to you and they will receive 20u Botox and 1cc Juvederm XC performed by you under direct supervision of our MD faculty
Hyaluronic Acid Facial Dermal Fillers
Types of Hyaluronic Acid Dermal Fillers

Juvederm, Restylane, Belotero, Defyne, Refyne, Vollure, Volbella, Voluma

FDA approved Indications
Contraindications
Patient consent
Depth of Injection Protocols (Superficial vs. Mid vs. Deep Dermis)
Dental Blocks and Local Anesthetics
Virtually Painless Injection Techniques and Dosage Protocols

Nasolabial Folds
Marionette Lines
Lip Augmentation
Mouth corners
Smoker's lines
Brow wrinkles at rest

Touching Up
Using Layered Treatments Successfully
Managing Complications
HANDS-ON INJECTION opportunity for qualified attendees
BONUS Introduction to PRP (BTX/Filler Course only)
BONUS Introduction to Smooth PDO Thread Volumization (BTX/Filler Course only)
BONUS Kybella Basic Training (BTX/Filler Course Online Content only)
Practice Building Tips and Tricks
Introducing a new service
Website SEO
Using Daily Deal sites to attract new patients
Pricing and Specials
Botox® and Kybella® are registered trademarks of Allergan, Inc.



Watch our PracticalCME Botox and Dermal Filler Training Overview Video...
Eligibility for Hands-On Training…
Doctors (MD's and DO's)
Nurse Practitioners
Physician Assistants
Registered Nurses
DDS or DMD
Botox Training with Dermal Filler Hands-On Certification
Since 2008, PracticalCME has been a leader in small-group, hands-on Botox Training. Moreover, our Botox Course is also combined with a complete Dermal Filler Training Curriculum as well. Therefore, you will learn the two most sought after injectable cosmetic treatments in one certification course.
As a result, over 98% of our attendees rate our Botox Training Course "excellent" and would recommend PracticalCME's certification to a friend or colleague.
FAST TRACK™ Online plus Live Hands-On Blended Dual Certification
Since 2012, we have pioneered FAST TRACK™ Training. This gives every live course participant…
One-on-On Small Group Botox Hands-On and Dermal Filler Hands-On Training.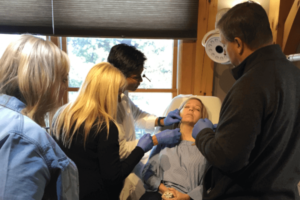 PracticalCME spends a greater percentage of our live contact time doing hands-on instruction than any other Botox Course, anywhere.
Because our MD instructors average 10 years of experience, your semi-private hands-on experience is second to none. You get 20 units (or more) of Botox and 1cc of Juvederm Ultra to inject on your own hands-on patient at no additional charge. In addition, PracticalCME never charges you for gloves and syringes used in hands-on. We provide everything for a great hands-on experience.
10 AMA Category 1 level CME credits with Dual Certification
Because our courses are backed by the gold standard in CME certification, you can rest assured that you are receiving the best training with no sponsorship or bias whatsoever. Use your online certificate to set up your accounts to purchase toxin and filler, then use your hands-on certificate for your liability insurance. FAST TRACK™ gets you ready to begin treating patients immediately when you return to the office.
Botox Training for MD's, DO's, NP's, PA's, RN's, and Dentists (select states)
PracticalCME has always maintained the most inclusive training for a wide variety of healthcare professionals. Since our courses are only taught by experienced MD's, your certificates will always be valid for your professional certification. Other courses taught by RN's cannot certify higher level providers like NP's, PA's and MD's.
Why Choose PracticalCME for your Botox Certification and Dermal Filler Training?
Non-US Licensed Providers Chat with us using the chat box below or email us No training course alters the legal scope of practice as defined by the medical/nursing boards in your home state/country. Please review all state/country requirements for supervision for these procedures prior to adding them to your practice.
Course General Information & Purpose
How the Best Doctors, Nurses, and Mid-Levels Learn Toxin and Dermal Filler Injections
Nobody learns how to treat patients with Botox and Dermal Fillers in their basic medical or nursing education. These cosmetic injection procedures do not belong to any one specialty or group of providers. For over a decade, PracticalCME has provided inclusive hands-on training courses for all eligible practitioners. It is our goal to provide you safe, evidence-based certification training before, during, and after the live hands-on training date. And our physician faculty members will continue to support you while you transition from student to provider in these services.
And the patient of your choice will receive over $800 of free treatment (20 units Botox(R) and Up to 1cc of Juvederm XC). What a great gift for a friend, family, or staff member! With our unique FAST TRACK™ Botox classes you are ready to practice your new procedure in 3 easy steps…
Watch the narrated online content at your own pace.
Attend the live review of the protocols, Q&A, and hands-on training
Begin practicing and re-review the online content when necessary

Over 98% of our attendees rate our training for Botox "excellent" and would recommend PracticalCME's certification to a friend or colleague.
Register for your FAST TRACK BTX/Filler CME Hands-On Training Now…
Frequently Asked Questions
Sign up for our PracticalCME Email Newsletter for Exclusive News and Discounts