PracticalCME's Mission Since 2008
Operate as a Not-For-Profit Organization committed to patient safety by teaching medical providers the safe use of prescription and compounded medications in their aesthetic and wellness practices.  We only teach the safest and most effective protocols that allow out attendees to practice with confidence and get great results in their own practices.
Offer post-graduate CME-accredited training in procedures and services that most patients want but do not require a large investment by the provider.
Only teach subjects that can be completed in one day using a combination of live lecture and online/video content to reinforce learning.
Never allow sponsors of any kind to control our curriculum.
Limit the live hands-on sessions to an average of 6 participants, and live lectures to under 10 people per live lecture date.
Offer groundbreaking ways to leverage technology like streaming video and online simulcasting to give more providers throughout North America access to training.
All of our courses are written to be entertaining as well as informative. We know that a person only retains 10-20% of what is heard for the
very first time in a lecture session. That is why we back up our training courses with a variety of supplemental materials to enhance learning and retention…
Unabridged downloadable syllabus for printing and note-taking
Available online versions of every course we teach to watch before and after the live session for further reinforcement.
FAST TRACK TRAINING (TM) for our 4 Aesthetic Training courses which require participants to watch the entire video in advance and pass the post-test prior to attending the live hands-on session.
This has resulted in 90% more confidence among our participants and allows us to devote more valuable live time to hands-on practice.
Customizable office forms, patient consents, quick reference charts, supply lists, treatment videos, supporting emails with helpful links, patient handouts, and marketing
examples support our courses to complete the learning.
Our instructors always give out their email addresses and promptly answer any questions and clarifications after the course is over.  This is why over 35% of our attendees have already taken one PracticalCME course at any time in the past.  Our track record makes us so confident that you will earn back at least double what you paid for the course.  That is why all of our live courses are covered by our "Learn It and Earn It" money back guarantee.  See the Terms and Conditions when placing your order for details.
PracticalCME's courses are not for everyone.  We cater to the brightest, most-motivated and entrepreneurial providers.  Our courses contain all of the basic information and protocols but include the in-depth information that will take you from a provider to a master of the procedure.  We want our graduates to perform above the standards of care in their community from the first day that they launch their new service.  Some of our topics like Cosmetic Uses for PRP, PDO Thread Lift, and Neurotransmitter/GI are the only online CME courses of their kind anywhere and require a special and highly-motivated aesthetics or wellness provider who wants to stand out among the competition.
Gregory P. Zengo, MD
Medical Director, PracticalCME Medical Training
Director, Athens, GA Training Center
Director of Hotel-Based and Online Training
Gregory P. Zengo, MD has trained hundreds of physicians in aesthetic procedures like Botox, Dermal Fillers, Liposuction, and Sclerotherapy, in addition to wellness services like BHRT with Saliva Testing, and medical weight loss since early 2006. He has forged a unique blend of rigorous evidence-based instruction with practical tips, tricks, and hands-on techniques to help the new practitioner become experienced in the shortest time. His own practice in Georgia serves as a laboratory for everything that is new in aesthetic medicine. What works in reality becomes PracticalCME's next training course. By remaining in close contact with hundreds of doctors, he is always enriching the course content to make our training the most valuable anywhere. Dr. Zengo is a board-certified OB/GYN specialist. Following his medical school at Emory University in Atlanta, he completed his residency training also at Emory. As a resident, he was awarded the title of Chief Administrative Resident and Resident Teacher of the Year. He has spent 9 years as an Assistant Professor or Clinical Instructor on the Emory faculty.
He has trained with some of the world's best practitioners in Sclerotherapy, Mesotherapy, Liposuction, PDO Threads, Platelet-Rich Plasma, and Bio-Identical Medicine. These skills have been very well-received by his patients and profitable for his practice. "I found that the most profitable procedures that had the highest patient demand were also the ones that required the least amount of expensive equipment." And so, PracticalCME was founded to teach physicians new skills, not sell them expensive equipment that will be obsolete in 2 years. Since then, his practice has grown from being 10% aesthetic and wellness services in 2002 to 95% aesthetic and wellness services, and he has not taken a night of call or set foot inside a hospital in over 10 years.
His practice and its adroit transition from traditional medicine to a hybrid of medical/alternative/aesthetic services brought physicians from over 40 states to train one-on-one with Dr. Zengo in his Georgia offices over the past decade. Dr. Zengo began giving his own unique CME training courses in late 2006 but did not cave in to the influence of sponsors who tried to control his content. This led to the founding of PracticalCME in 2008. He has lectured hundreds of physicians since then, most of whom have come back to train in multiple topics.
Dr. Zengo is licensed to practice in 5 states.
Rebecca Appleton Castillo, MD
Co-Director, Charlotte and Charleston, SC Training Centers
Dr. Rebecca Castillo is a graduate of Duke University, having earned a BS in Zoology. She also holds a Master's Degree in exercise physiology/cardiac rehabilitation at the University of Maryland. She managed the corporate fitness center at the National Security Agency before completing her MD degree at the University of Maryland. She then completed a three-year residency in family medicine at the Medical University of South Carolina. In 1999, she co-founded Carolina Family Medicine where she practiced through 2008 in addition to co-founding MD Laser studio in 20
Dr. Appleton Castillo holds membership in the American Society for Laser Medicine and Surgery and the International Society for Hair Restoration Surgery. She has a special interest in the post-menopausal patient; specifically how non-surgical cosmetic procedures can boost confidence. She has extensive teaching experience having served as clinical preceptor to numerous nurse practitioner students.
Alissandro "Andy" Castillo, MD
Co-Director, Charlotte and Charleston, SC Training Centers
Dr. Andy Castillo is the owner and Medical Director of M.D. Laser Studio, and Encore Nurses. He is a family physician with extensive dermatological and surgical training. His education includes a BS degree in Zoology from the University of Maryland, an MD degree from Wake Forest University, and an MBA from Duke University Fuqua School of Business. Dr. Castillo completed an internship in general surgery at Walter Reed Army Medical Center. While serving in the United States Army as a flight surgeon he also successfully completed a plastic and reconstructive surgery research fellowship at prestigious Johns Hopkins. Following his military service, he finished a three-year residency in family medicine at the Medical University of South Carolina.
Dr. Castillo is a committed fellow of the American Society for Laser Medicine and Surgery as evidenced by his membership to several committees (Constitution & Bylaws, Membership, Audit and Strategic Planning) and is chair of the Finance Committee. He has also distinguished himself an expert on a wide variety of cosmetic devices often called upon to train others. He has has trained and spoken on behalf of Restylane and Dysport, and is a Platinum Plus Provider of Botox and the Juvederm family of products for Allergan. He is also a member of the International Society For Hair Restoration Surgery. He has an appointment as Technical Advisor at Duke University's Fuqua School of Business. He was recently awarded his first U.S. patent. Dr. Castillo is the co-director of the PracticalCME Charlotte Training Center.
Maha Shakir, MD
Director, Portland, OR Training Center
Maha Sabah Shakir, MD, FACS is the founder of Lake Oswego Vein & Aesthetic Center 2014. She is a Diplomate of the American Board of Surgery and a Fellow of the American College of Surgeon. She moved to Portland after completing her medical school in Iraq. In Portland, she attended OHSU to complete her General Surgery Residency. Then spent one year at UCSF to receive further advanced training in Minimally Invasive Surgery. After practicing as a surgeon since 2002, she decided to follow her passion for helping people look better beside feeling and living better. Which motivate Dr. Shakir to expand her aesthetic practice to include injectable and laser therapy. She received her certification as advance injector for Botox and Dermal filler, also certified in Sclerotherapy in 2015. In 2016 she was certified and introduced Kybella and laser therapy to her practice. Laser therapy utilize mainly to treat different dermatologic health issues including acne scar, hyper pigmentation, skin revitalization.…..also removal of unwanted fat. As a clinician, she encourage her patients to take an active role in their care and guide them to make the right decision in that regard by providing up-to-date outstanding quality care. Dr. Shakir followed her father steps who was a Primary Care Physician. The rewarding relationships that he had with his patients inspired her to become a doctor. She choose to be a surgeon because she enjoys working with her hands and it is very satisfying to see the immediate improvement the patient feels after the procedures she performs. Her family, husband and three boys are the joy of her life. She enjoys hiking, running, traveling and cooking together.
Theresa Huyen, MD
Director, Orlando (New Smyrna Beach, FL)  Training Center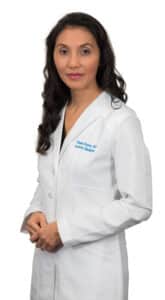 Board Certified in Internal Medicine – Provides Primary Care and Hospitalist Services

KOL (Key Opinion Leader) and MINT Expert User and Trainer for Han's Biomed

Founder of Total Care – Provides Primary Care, Anti-aging and Wellness Services

Founder of Transform Aesthetic Center – Medical Spa in New Smyrna Beach that Offers Minimally Invasive Procedures and Host Private Aesthetic Trainings for Injectables and MINT PDO

Preceptor for Nurse Practitioners and Medical Assistants since 2007

Medical Student Teacher of the Year

Dr. Harcharan Singh Award for Humanism in Medicine

Outstanding Clinic Resident of the Year
Alice Kuntz, MD
Director, Seattle (Bellevue), WA  Training Center
Dr. Alice Kuntz graduated with Honors in Biology at Stanford University, earned her Medical Degree at the University of California San Francisco, and completed her Residency in Otolaryngology Head and Neck Surgery at the University of Washington in Seattle. In 2016 Dr. Kuntz completed a three-year Master's program in Acupuncture and East Asian Medicine at the Seattle Institute of East Asian Medicine. For 18 years, she enjoyed a very busy otolaryngology practice with a particular interest in surgical and non-surgical facial rejuvenation.
In 2018 Dr. Kuntz retired from otolaryngology to open her solo practice, Inner Vitality. Bringing together Acupuncture and Alternative Medicine modalities with Aesthetic Medicine, her mission is to promote health and beauty from the inside out. She offers comprehensive, non-surgical aesthetic treatments for rejuvenation of the face and body, as well as Hormone Balancing, Intimate Rejuvenation with laser, Medical Weight Loss, Pain Management, and Wellness programs.
Robert Caiati, MD
Director, New York (Babylon, Long Island), NY  Training Center
Dr. Robert Caiati is the owner and founder of Shore Medical Aesthetics & Anti-Aging. He is a board certified physician with a professional yet welcoming bedside manner. Dr. Caiati graduated medical school at the Technion Israel Institute of Technology, completed a surgical internship at New York Hospital Queens and finished medicine residency at Stony Brook University. Dr. Caiati is well trained and very experienced in laser skin care and other non-surgical cosmetic procedures like Botox, Juvederm and Coolscultping. He is very knowledgeable in skin care products and has been performing cosmetic injections like Botox and Juvederm for over 7 years. Dr. Caiati also has expertise in performing laser assisted liposuction, like Smart Lipo, and fat transfers. He has an artistic eye, skilled hands and a gift for obtaining beautiful natural looking results. He believes in moderate correction rather than over-correction."
PracticalCME is Looking for Offices to Host our Hands-On Training Courses