Platelet-Rich Plasma Certification and PRP Training Courses Includes Microneedling Hands-On

Small Group LIVE Hands-On Training
FAST TRACK Online + Live Certification Training
Learn Online prior to the Live Training Class
Start watching online course material immediately
Downloadable consents and patient instruction forms
Live Course focuses on advanced learning and hands-on
Learn more about FAST TRACK blended training
10.25 AMA/AAFP CME Credits
Cosmetic Platelet-Rich Plasma Training with Hands-On
Accredited Certification by AAFP and AMA Category 1
Credits accepted by AANP and AAPA
THIS ACTIVITY HAS BEEN REVIEWED AND IS ACCEPTABLE FOR UP TO 10.25 PRESCRIBED CREDITS BY THE AMERICAN ACADEMY OF FAMILY PHYSICIANS (AAFP). AAFP Prescribed credit is accepted by the American Medical Association as equivalent to AMA PRA Category 1 Credit™ toward the AMA Physician's Recognition Award.
PRP Training Course Video
Microneedling and PRP Training for Medical Professionals is open to …
Doctors (MD's and DO's)
Nurse Practitioners & Physician's Assistants
Registered Nurses (RN's)
Non-US Licensed Providers and other licensure can only take the online course, but not hands-on in the USA
Understand the Definition of Platelet-Rich Plasma (PRP)prp facial procedure

Learn the growth factors present in platelets and their functions

Review the FDA-approved PRP isolation devices

Strengths and Weaknesses of Each

Differences between 1.7x and 4x or higher platelet counts
How and Why to "Activate" PRP

Benefits of PRP in the medical literature

Medical/Wound Healing Indications

Review of Literature regarding cosmetic indications

Face lifting and fillingCosmetic-platelet-rich-plasma-training-

course

Skin tone and uniformity

Hair Regrowth

Scars
Cosmetic PRP Facelift Technique and Protocols

Patient Assessment

Planning the Treatment

Volumes of PRP and HA Filler Calculations

Performing the Procedure

Aftercare
Cosmetic PRP Facial (PRP plus Microneedling) Technique and Protocols

Review of Microneedling Devices

FDA 2018 Jurisdiction of Microneedling Devices

Literature review of Microneedling

Microneedling protocols

Aftercare and Skin Products to Avoid

Using PRP for other Body Areas

Scalp Rejuvenation Protocols

Hand Rejuvenation Protocols

Cosmetic PRP Breast Atrophy/Nipple Protocols

PRP Scar revision Protocols
BONUS:  Introduction to PRP with Smooth PDO Threads

Marketing Your New Service

Bundling Your Service With BTX and Dermal Fillers
LIVE Office-Based Training courses will include a demonstration of the PRP Facelift, Microneedling or both. LIVE Hotel-Based Training courses will include a demonstration of Microneedling. Contact Us for details regarding each individual course date.
Cosmetic Platelet-Rich Plasma PRP Hands-On Certification with Microneedling
Since 2008, PracticalCME has been a leader in small-group, hands-on PRP Training. Moreover, our Cosmetic PRP Course is also combined with a complete Microneedling Curriculum as well. Therefore, you will learn two of the most sought after injectable cosmetic treatments in one certification course. This effectively covers both the PRP Facelift and PRP Facial in one Training.
As a result, over 98% of our attendees rate our PRP Training Course "excellent" and would recommend PracticalCME's certification to a friend or colleague.
FAST TRACK™ Online plus Live Hands-On Blended Dual Certification
A full 5 hour streaming, interactive online presentation complete with narrated treatment videos.
Because the online learning begins from the moment you place your order, you can learn at your own pace.
Print your online CME certificate after passing the online post-test.
Then, attend the live hands-on for an additional 5.25 CME hour certificate.
Hands-on courses are limited to 6 providers for each 1 MD instructor.
One-on-One Small Group PRP and Microneedling Hands-On Training.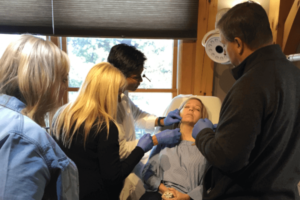 PracticalCME spends a greater percentage of our live contact time doing hands-on instruction than any other PRP Course, anywhere.
Because our MD instructors average 10 years of experience, your semi-private hands-on experience is second to none. You get to perform your own medical microneedling at all sites and inject real PRP spun from one of your own patients at our private MD office sites (West Palm Beach, Washington DC, Houston, Orlando/Daytona Beach, Los Angeles (Irvine, CA), New York, Charlotte). We only use FDA-cleared microneedling pens and PRP isolation devices, and have NO sponsors controlling our curriculum like other trainings.
10.25 AMA Category 1 level CME credits with Dual Certification
Because our courses are backed by the gold standard in CME certification, you can rest assured that you are receiving the best training with no sponsorship or bias whatsoever. Use your online certificate to set up your accounts to purchase your microneedling pen and PRP isolation equipment, then use your hands-on certificate for your liability insurance. FAST TRACK™ gets you ready to begin treating patients immediately when you return to the office.
PRP Training for MD's, DO's, NP's, PA's, and RN's
PracticalCME has always maintained the most inclusive training for a wide variety of healthcare professionals. Since our courses are only taught by experienced MD's, your certificates will always be valid for your professional certification. Other courses taught by RN's cannot certify higher level providers like NP's, PA's and MD's.
Why Choose PracticalCME for your PRP Facelift Certification and Microneedling Training?
No training course alters the legal scope of practice as defined by the medical/nursing boards in your home state/country. Please review all state/country requirements for supervision for these procedures prior to adding them to your practice.
Course General Information & Purpose
How the Best Doctors, Nurses, and Mid-Levels Learn Cosmetic PRP since 2014
Nobody learns how to treat patients with Cosmetic PRP in their basic medical or nursing education.  These cosmetic injection procedures do not belong to any one specialty or group of providers.  For over a decade, PracticalCME has provided inclusive hands-on training courses for all eligible practitioners.  It is our goal to provide you safe, evidence-based certification training before, during, and after the live hands-on training date.  And our physician faculty members will continue to support you while you transition from student to provider in these services.
With our unique FAST TRACK™ Botox classes you are ready to practice your new procedure in 3 easy steps…
Watch the narrated online content at your own pace.

Attend the live review of the protocols, Q&A, and hands-on training

Begin practicing and re-review the online content when necessary
Over 95% of our attendees rate our PRP training "excellent" and would recommend PracticalCME's certification to a friend or colleague.
Reserve Your Spot Now for one of PracticalCME's PRP Certification Training Courses
Frequently Asked Questions
Sign up for our PracticalCME Email Newsletter for Exclusive News and Discounts